India's fleet of Business jet aircraft reduce by2% in 2015 — the first decrease in 25 years.
The market is set to shrink further .
According to operators and industry experts –
Business jets are losing shine as corporate trophies because of high taxes and poor infrastructure

As much as 40%. of the planes are up for sale,

The Tata Group, GMR, GVK and Jindal Steel & Power are among those that have dropped plans of adding more business jets or deferred orders,

Others have resold planes in the secondary market immediately after taking delivery.
Charter business and services have also been hit. Tata Sons-owned Business Jets India returned all four planes — three Hawker Beechcraft and one Cessna Citation — to lease companies earlier this year. The company is in the process of closing its operations in India, they added.
Club One Air, one of the country's biggest charter operators, has a negative net worth, according to its documents filed with the Registrar of Companies. "It's a gloomy story, high cost structure and not enough government incentives for business jet operators, said Bhupesh Joshi, its CEO.
"For instance, a business jet can only park for 48 hours at the crowded Mumbai airport, after which there is a penalty," said Atiesh Mishra, director of operations Taj Air, controlled by Tata Sons. "So, an operator has to park in some other neighboring airport like Ahmedabad. This makes the whole business nonviable."
India's private jet fleet grew at double-digit rates until 2008, when it surged 26%, according to industry figures. After that, there was a sharp slowdown due to the global financial crisis and high taxes. Since 2007, the government has been levying an import duty of 21% on private jets. That compares to a tax of just 2% if the plane is imported for charter operations under a non-scheduled operators (NSOP) licence.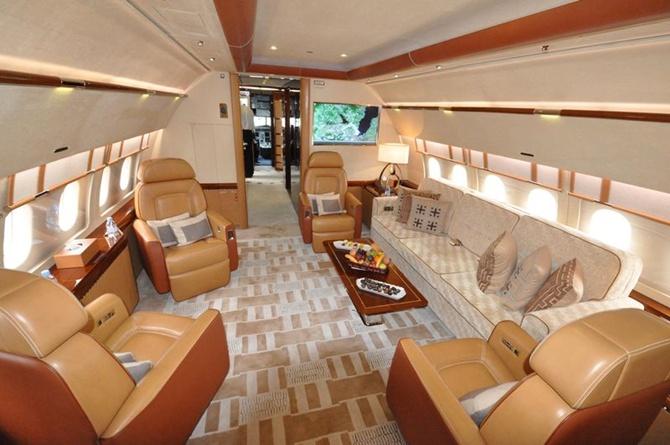 "Enforcement of the rules means that business models such as fractional ownership cannot be used in India unlike in other countries," said Jayant Nadkarni, president of the Business Aircraft Operators Association lobby group.
Nadkarni, and Jonathan McDonald, senior analyst at International Bureau of Aviation, a UK based consultant view the whole situation as –
Business jet market in India is sporadic in terms of demand

Few are actually owned by ultra high net worth individuals, more by corporations

Airport infrastructure is a big constraint

The result is a high operating cost structure

Small operators may not sustain

Though India builds airports to support Boeing 737s and Airbus A320s operated by scheduled Indian carriers for the passenger sector – to meet the growing middle class demand – but India does not build business jet facilities to the same degree.
To an extent, India thus contributes towards a global downturn in the private jet industry.
Honeywell has predicted a global demand outlook of 9,200 jets worth $270 billion for the next decade, down from 9,450 jets worth $280 billion predicted last year.
However, there is still hope left in business jets in India. 'Bombardier has seen interest and discussions surrounding private aviation increase in the past 12 months", said its spokesperson Anna Cristofaro. She also said that operators are discussing with the DGCA to resolve issues that are stifling growth. "Business aircraft are extremely important tools for the inclusive and regionally diverse growth we are looking for in India," she said. "This connectivity brings about investment to the region – everywhere a business jet is parked, business is being conducted and jobs are being created."
If this argument stirs a change, business jets could well stage a recovery. But until then, more of them are going to be grounded.
Related Posts